Working together with other tourism companies allows us to complement their services and ours, in order to make our country and Latin America a preferred choice for national and international tourists.
We offer coordination and transfer services of employees for companies, ensuring the entry and exit of each working day. We guarantee our commitment to contribute to their operating needs.
Coverage services of Congresses and Seminars, transfer of participants, delegations and personnel of the organization, collaborating with commitment to the fulfillment of the program.
We invite you to visit our main cities. Contact us for more information.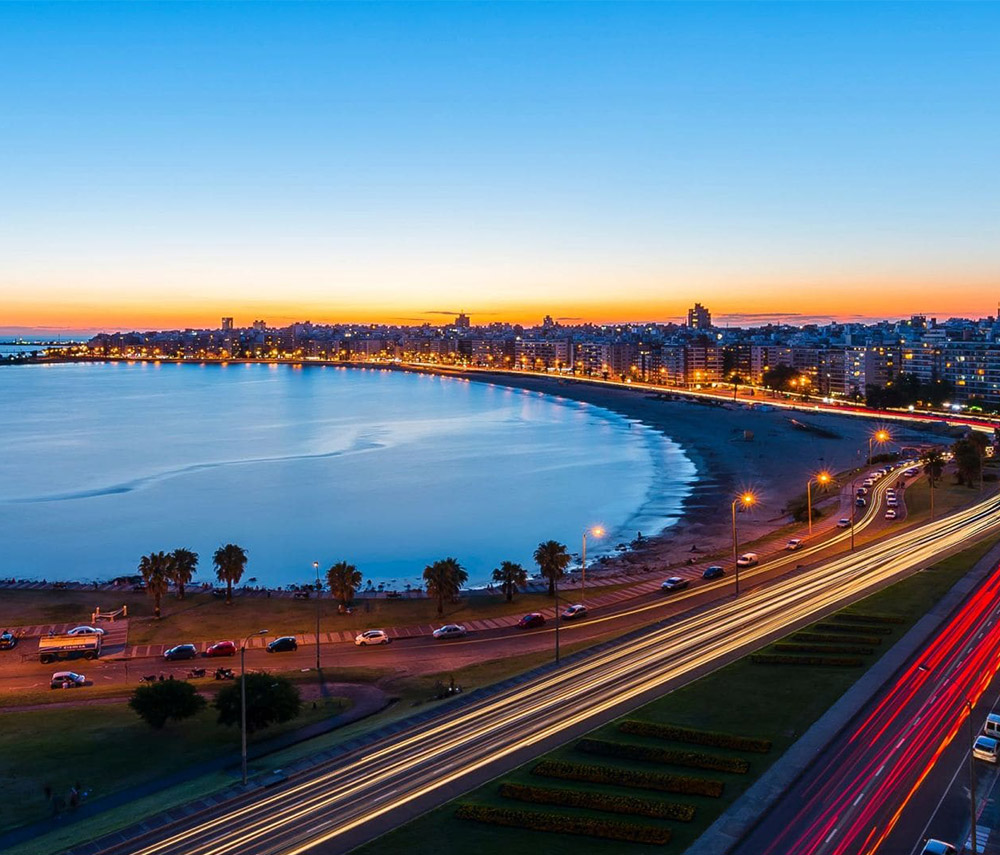 Capital of Uruguay, harmoniously combines modernity and tradition. Ancient architectural treasures such as Art Nouveau, Art Deco and modern avant-garde buildings give the city it's unique identity.
Our coast called "Rambla" is one of the main characters of Montevideo and an unforgettable walk for its inhabitants who usually visit it to drink Mate and enjoy long walks. There are also a big amount of green spaces, parks and gardens that allow multiple outdoor options.
Montevideo also has a broad cultural movement. For instance, its theatre billboard is extensive and varied, and covers both classical, modern and alternative shows. In its museums, cultural centers, houses of culture and exhibition halls it is possible to appreciate the art of a wide range of artists of scope.
In 2013, for the second time, Montevideo was named the Ibero-American Capital of Culture, by the Union of Ibero-American Capital Cities (UCCI).
Declared a World Heritage Site by UNESCO in 1995, a city that invites you to travel back in time and arrive in a Lusitanian village. Founded by Portuguese and disputed for years by the crowns of Spain and Portugal, it keeps intact the magic of its history.
There are charming cobblestone alleys illuminated by their traditional and characteristic yellow lights, on which countless historical and cultural attractions are found to discover and enjoy. "La calle de los Suspiros", the Viceroy's house, the Mother Church, Plaza de Toros, Puerta de la Ciudadela, are just some of the architectural beauties that this spectacular city encloses.
Only 40 km from Buenos Aires, Argentina or just 2 hours from Montevideo or 6 km from the Laguna de los Patos International Airport, Colonia maintains an optimal location, regardless of the place of departure.
Internationally recognised as one of the main resorts in America and the most exclusive in the region. It is located in the department of Maldonado, just an hour and a half from the capital of the country. Luxurious summer residences, high-rise apartment buildings facing the sea, huge yachts in the harbor, luxury hotels and restaurants in the most glamorous seaside resort of America. It's chosen as a summer destination by great personalities.
While walking the city the visitor finds a wide recreational offer, which includes exhibition hall, restaurants, pubs, nightclubs, antique shops, art galleries, cinemas, theaters and more. This resort is chosen for large luxury parties, fashion shows of prestigious brands and a wide range of cultural expressions such as the International Jazz Festival, the International Film Festival or exhibitions of contemporary artists of renown.
Punta del Este is also a unique natural destination. With more than 20 kilometers of coast, the spa also offers charming spots and landscapes for those who come to absolute tranquility. The meeting point of its two most famous beaches, Playa Mansa and Playa Brava, marks the end of the Río de la Plata and the beginning of the Atlantic Ocean. The spa grew towards the West forming Punta Ballena and towards the East creating La Barra and José Ignacio.
The diversity of its coastline and its fine white sands make it an ideal destination for sports such as surfing, windsurfing, jet-skiing, motor boating, sailing, fishing and sailing. On the mainland, tourists are also privileged to practice other sports such as polo, golf, tennis or rugby. In short, Punta del Este host a lot of alternatives to satisfy the needs of the most demanding and heterogeneous palates.
Fill in the form to send us your inquiry about this service.